Advice For Robots/Live in Boston, 1999
<a Russo-Finnish co-production>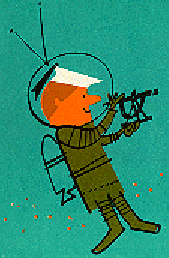 Recently, Advice For Robots had it's last show ever on an FM Transmission. At first I was sad, but now, I'm not so sad because I can still get the word out to the people through Live in Boston, 1999. Soon, Matt and I will be back in the brodcast music world. Thanks Seth! Follow the link to see Seth's Live in Boston, 1999's homepage and follow the directions below to hear the transmission!





Check out the live streaming mpeg-layer3 audio!
First. Open yr mp3 player(winamp, sonique, real player 7, etc.).
Second. Go to play location.
Third. Type in http://216.32.166.83:7962
Fourth. Don't stop a rockin'. Don't ever stop a rockin'.
Fifth. Send me requests. If we have it, we'll try to oblige. e-mail
Current looping playlist - "Hope was all I tried to save." 1/13/99
Bright Eyes - Neely O'Hara
Damien Jurado - Ohio
Elliott Smith - Harvest Moon
Built to Spill - Now and Then
The Gerbils - Crayon Box
Portastatic - St. Elmo's Fire
Pavement - Major Leagues
Rainer Maria - Atlantic
Silo The Huskie - Wheeling
Sunny Day Real Estate - Every Shining Time You Arrive
Beth Orton - I Wish I Never Saw The Sunshine
Christie Front Drive - Turn
Silver Jews - Advice To The Graduate
Flaming Lips - The Gash
The Folk Implosion - My Ritual
Karate - It's 98 Stop
Masters of the Hemisphere - Everybody Knows Canada
The Promise Ring - Deep South
Quasi - Poisoned Well
Radiohead - Bishop's Robes
The Zombies - I'll Call You Mine
Braid - Consolation's Prizefighter
Yo La Tengo - Sugarcube
iqu - Whistle
Sebadoh - Perfect Way
Silver Scooter - Clarkston, WA
Push Kings - Diamonds Aren't Forever
Modest Mouse - Trailer Trash
Hefner - Love Will Destroy Us In The End
Gomez - Pickin' Up The Pieces
Yars Revenge - Always as Grey